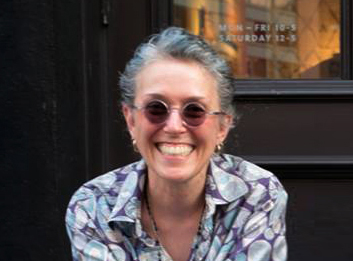 A native of Winnipeg, Canada, Davies has called Manhattan home for 32 years. She achieved her first public attention in New York City in the mid ninety's with her "Lucky Paintings" and "Lucky Chairs" exhibiting with the OK Harris Gallery and then the Gracie Mansion Gallery in New York's East Village.
Her art has been featured on HBO's "Sex and the City", Ted Demme's film "200 Cigarettes", and her Lucky Chairs have been featured on the Oprah Winfrey Show and "Sex and the City." Her paintings are in the collections of Harvard Business School, Sara Jessica Parker, Debra Winger, Jane Holzer and others.
2018
"I am thrilled to announce that my 35 year digital art archive, has joined the extraordinary NYU FALES LIBRARY permanent "Downtown Collection". I'm grateful to now be on record as part of the downtown NYC story for evermore. Big love to Marvin Taylor at NYU for making room for me there"
-Sally
Her photographs have been featured in-
"A Democracy of Photos," Scalo Press
"Everyone Comes to Elaine's," A.E.Hotchner, Harper Collins Publishers, NY
"The Light That Guides You Home" Jim Cuddy CD,,
"Skyscraper Soul" Jim Cuddy CD, Warner Music Canada.
"Undiscovered" by Debra Winger , Simon & Schuster
Sally is the author of the 2010 widely acclaimed "McDonalds Happy Meal Project".
Davies has been photographing New York City since 1983.